PDS introduces online retail to sell direct to consumers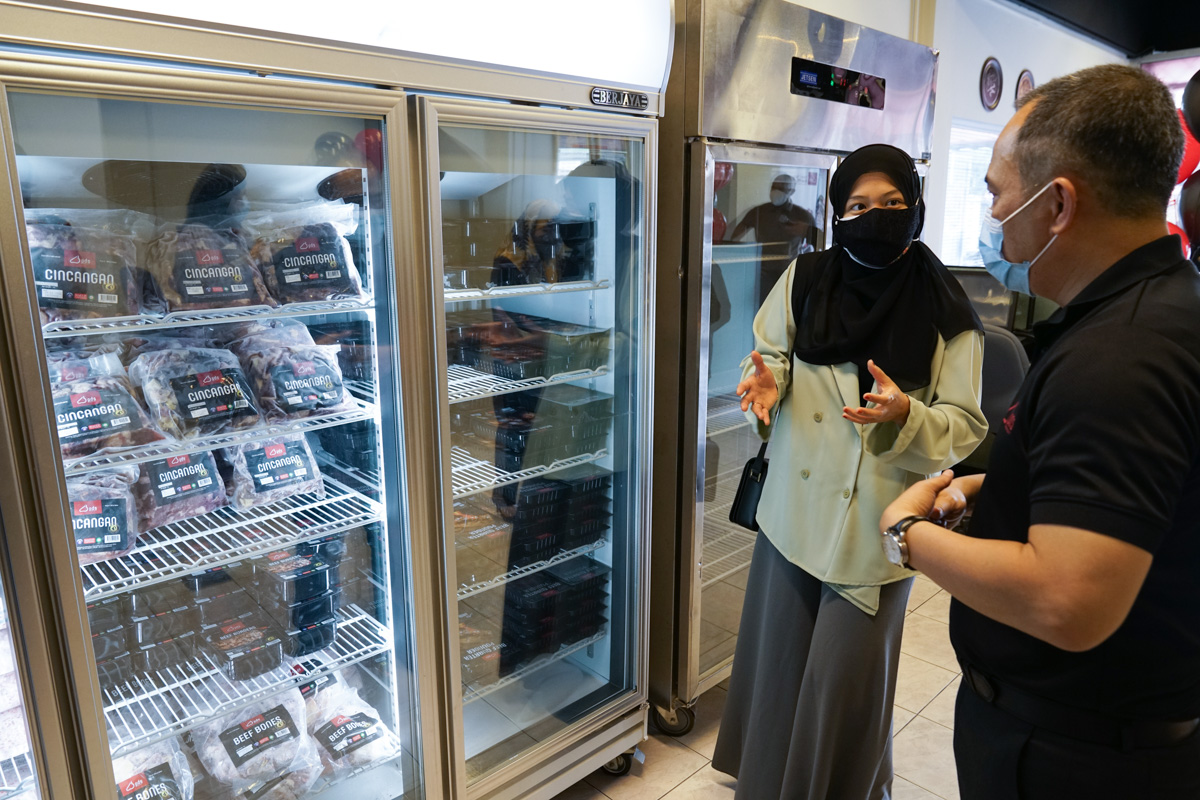 Brunei's largest meat producer, PDS Abattoir, has introduced an online retail service to reach consumers directly to meet growing demand.
PDS created their business WhatsApp account and turned their downstairs office into a storefront to start selling direct to consumers last week, with an online store also in the works.
Customers can browse and order through their catalog on WhatsApp (+6738750032) and make payment by BIBD bank transfer (00015010038401).
Orders will then be processed so that customers can pick them up at their head office in Gadong. Walk-in store visits are not permitted during the COVID-19 transition phase.
Right now, the online store has six hot frozen products in 10 options: ground beef, ground beef (cincangan), beef bones, beef burgers (45g and 115g patties), corned beef, and meatballs. beef. These products are priced between $ 2.50 and $ 11, which is in the affordable range of PDS.
PDS can also start stocking whole or portioned cuts of beef and introduce delivery, based on customer feedback and demand.
PDS's main income currently comes from supplying supermarkets nationwide. PDS Managing Director Hj Sabirin Othman said the decision to set up an online sales channel is aimed at satisfying consumers who specifically want PDS products.
These include customers who have difficulty finding PDS products in supermarkets, whose stock levels fluctuate based on PDS supply or customer purchases in progress.
"Previously (before the second wave of COVID-19), people would come in (our Tutong farm) to ask to buy directly," he said. "As we are in a critical position (to supply the meat of the country), we had to stop the visits (to avoid risking our operation to a potential epidemic). "
PDS transforms operations during pandemic, but imports remain difficult
PDS has been responsible for supplying the country's meat since the first COVID-19 outbreak in March 2020.
As frozen imports – usually Brunei's main source of meat – were suspended because religious officials could not travel abroad to ensure halal compliance, the government hired PDS to fill the void by importing live animals. in place.
This cattle was then slaughtered by PDS and supplied nationwide, with the by-products processed into items such as cold cuts, burgers and sausages. Since PDS only imports live Australian cattle, the quality and selling price of its beef products are superior to those of frozen beef previously imported from India.
Earlier this year, the government began easing frozen imports, but the live import and local slaughter model continues to be the main source of meat in the country.
To increase their value chain and reduce the cost of beef, PDS upgraded its facilities to introduce feedlots; where younger and smaller cattle are imported and then fattened in the country for several months before slaughter and sale.
PDS has a five-year, multi-million dollar plan to increase feedlot capacity to 7,000 cattle, which will see its slaughter capacity also increase to 24,000 cattle per year.
Along with the fattening program, PDS has also doubled the capacity of its processing plant, as part of its long-term plan to not only meet local demand, but potentially export to countries that value halal products.
However, Hj Sabirin admitted that the pandemic has seen them regularly face several import shortages and delays, so their goal is to fully meet local demand before considering exports.
"Last year we transformed the way we operate (into what would have taken) one to two years; we are forced to step up (because of COVID), we have invested substantially, "he said when launching their online service. "Right now (we are waiting) for raw materials (livestock) to be able to offer more products in 2022."
With its new focus, expansion and future plans, PDS changed its name last February with a new slogan – the house of good beef.
Related